Realistically speaking, this will explain nearly every stalled weight loss situation you've ever heard of. This will help you understand rebound weight gain. This will explain why you've had to work really hard to lose weight, or why things seem to come more easily to other people (even in your own family).
You'll even understand why some of your friends never have to worry about their weight, and why a few small tweaks to the way you eat could lead to you feeling the same way.
And yet, this information cannot be found anywhere else. And there's a good reason for it. Most of the big industry folks out there would prefer that profits are maximized before moving onto a real solution.
"An apple a day keeps the doctor away," right?
Well, maybe not. Even if an apple is a perfect match for your body, there's a good chance that intestinal wall build-up -- from years of eating mismatched food -- is in the way of proper nutrient absorption and stopping your body from getting all of the wholesome nutrients from the apple you would otherwise be able to absorb.
In other words, if your gut isn't healthy it can't absorb all of the apple's goodness, which means that even if you are 'eating' healthy, you aren't getting healthy.
That's why...
Within the next 60 seconds, you're going to meet three people who all experienced significant health issues until they discovered how to eat for their own bodies, and you'll see this has made all the difference.
Which is why, in the next 4 minutes, I'm going to reveal to you two of the most important weight loss, diet, and health revelations you may ever hear.
And within the next 4 days, there's a good chance you're going to feel like you've lost 10 pounds by just following this advice and sticking to it...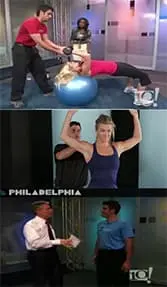 Sound too good to be true?
I thought so too.
Yet, after personally working with hundreds of clients during retreats, mentoring countless family members, helping friends, mentors, nutrition coaches, dieticians, medical doctors, chiropractors, and personal trainers from around the world implement these food strategies, I am convinced.
And rather than re-create the wheel and hope that I understood every single intricacy that went into preparing delicious meals -- combining your body's personal superfoods into a mixture of pure bliss that excites your taste buds with every whif to your nose and every drop of saliva that builds in your mouth -- we've gone ahead and hired the world's top personal chef.
He's cooked for the Queen, Mick Jagger, and more.
And he's been the chef at many, many of these retreats.
What you are learning today is the culmination of 2 years of teamwork, 5 years of in-person retreats, 13 years as a Doctor of Physical Therapy, 20 years as a Personal Trainer & Kinesiologist, over 1.5 million people reached online, thousands of people reached in person, and hundreds of retreat attendees who have radically transformed their health. Plus, combine this with the expertise of one of, if not 'the' top Personal Chef in the world.
The food strategies we are discussing are meant to help 'everyone', because they take a look at your individual differences and help you identify which foods best match your body on an individual level.
This means that you get to learn which foods are best for you, just like Brenda, Janet, and Frank:
"I'm off my medications in just 3 days."
"
"I lost 12 pounds in the first two weeks. And I've lost 14 over the last 30 days since."
"
"Nearly all of my joint and muscle pain is gone."
"